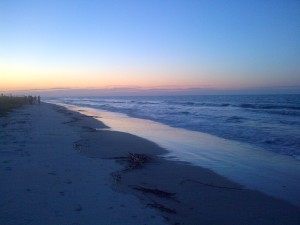 "I have always depended on the kindness of strangers"
Tennessee Williams
Saturday was a "Me" day. I planned a day with myself intent on being active, eating right, relaxing, and just plain having fun. I loaded up my bike with a cooler, beach chair, boogie board, backpack, and headed to the beach. I unloaded my things, set up my "space" at the high tide mark and took off riding. My plan was to ride up the beach to where the folly cuts through, but the tide was already too high. So instead I rode along the bike paths until I reached my destination…Whole Foods. I'm sort of addicted to their Nutty Monkey smoothie which I ask them to add kale. I continued my journey, riding along the Marsh soaking up the glorious day. Eventually I made my way back, hours later, to my place at the beach.
Body surfing is a favorite summer pastime of mine and high tide is the best. I took turns playing in the water and digging my feet in the sand…truly a decadent indulgence. Weariness and hunger began knocking at my door. I could feel a bowl of popcorn, pj's and a movie calling me home.
I loaded up the cargo and headed to the outdoor shower area. The shower has one of those push buttons that dispenses water for an allotted amount of time. There is a hose attached to it which I attempted to use to clean my bike. But it wasn't working the way it was intended. It would only work if you continued to hold the button at both the shower and on the hose end, which made it impossible to reach the bike. I made several attempts unsuccessfully. I was about to reposition the bike when this little girt of about 8 years old approached me. She had a smile that lit up her face, with golden curls bouncing around her head. Light poured from all around her. She said, "Here, let me help you with that". She walked right up, and held the button for me, smiling the whole time. She felt like an Angel and her random act of kindness warmed my heart. I finished my task, thanked her, and proceeded to leave. As I left, I turned and looked back at her, and there she was, still smiling, looking right at me. I felt my life turning at that point.
Our lives are a mirror of our thoughts. There was a time in my life that I seemed to be surrounded by people that would cut me off in traffic, exhibit road rage, or start yelling at me for no apparent reason. I would often ask myself, "Why me, what did I do"? Now I see my life filled with people wanting to help me, offering their place in line, taking the time to speak with me. On this day, with my gratitude brimming for the little girl, I said to myself, "Wow, my life is finally changing in the way I have wanted and searched. My own acts of kindness for strangers is coming back to me like a boomerang."
At the end of the day, for the first time in a very long time, I truly felt joy. An inner, solid piece of pure joy.
Thank you,
Karen Geiger